About Andrew Ebert
Keyboard / Backup Vocals
Andrew Ebert was born in Arkansas City, KS on April 17, 1987. Andrew's parents, Kim and Troy, owned and operated Brown's Office Supply at 225 South Summit in Arkansas City. Educated in Arkansas City, Andrew graduated High School in 2006. Andrew is currently employed by Security 1st Title in Wichita, KS as an IT Systems Engineer.
Andrew met Marc when he was in the same course as his wife Jackie at Friends University. After getting to know each other more, Marc brought Andrew on as a fill in Sound Tech for Untamed Country and, eventually, brought him on as lead keyboardist for the band. Andrew has been with the band as keyboardist since 2016.
When not working, Andrew enjoys fishing (Often with Marc), Miniature Golf, Watching movies, being around family, and Playing piano or Running Lights for his church.
One of Andrew's favorite quotes is from a singer/songwriter TR Ritchie - "Work when there's work to do. Play when it's time to play. Dance when the music moves you and Sow a little love along the way."
About Tyson Oxford
Lead Guitar
Tyson Oxford plays lead Guitar for Marc Baker and Untamed Country. Born in Wichita, Tyson was raised in the small rural town of Fall River, KS. Starting in High School, Tyson and a friend had the urge to play and started a band. It was then that Tyson was introduced to the life of a traveling musician. Unfortunately, life set in and upon graduating high school, the band split up. Tyson was a member of several other bands in the area before meeting Marc.
Tyson is a drummer by trade but for the last 20 years has instead been accused of being a Guitar player. He taught himself how to play guitar at age 14 when his father introduced him to an old Fender Mustang which he had. Tyson's father then bought him his first guitar and Tyson bought the Amp to make the kit complete. Since then, Tyson has primarily played country music but still likes a good rock song. Some of his biggest influences have been Brent Mason, Vince Gill, Steve Stine and Dario Cortese.
Tyson is impressed with Marc's dedication to the music and professional appearance that he states "Attending a show is a Must!" Tyson has been a member of Marc Baker and Untamed Country since 2014.
About Mike Nichols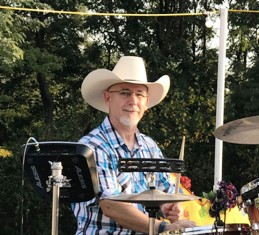 Drums / Percussion
Mike Nichols started drumming in 1969. He has played in several bands over the years including, APOSTLE (INSIDE-OUT), STRAIGHT COUNTRY, LEAVING 99, NO TURNING BACK, and WILD ROOTS.
Mike is a life long resident of Wellington, Ks. Being from Wellington, country and rock music just come natural for him. The beats he provides for the band keep everyone in check and provides the drive that makes country music great!
Mike loves to provide the beat for MARC BAKER and UNTAMED COUNTRY. When people get up and dance, Mike knows he is doing it right, and that makes his night. Mike is fairly new to the band, joining in 2017.
About Phil Reeves
Bass Guitarist
Phil began seriously playing bass guitar, after retirement, in 2003 while living in the Dallas/Ft. Worth area. During that time, Phil played in a couple of local bands including Comanche Creek for about 5 years.
While playing with Comanche Creek, Phil had the great opportunity to be included in the house band rotation at Billy Bob's Texas. As a house band we had the pleasure for opening for such artists as: Hayes Carll, Ray Wylie Hubbard, Aaron Watson, Neil McCoy, Brandon Rhyder and Jake Owen. Comanche Creek also had the opportunity to open for John David Kent at the Texas Bull in Gainesville, Texas for a show which was broadcast live to the troops in the middle east.
Phil's musical influences are country, old rock (60s and 70s) and blues. Phil currently lives in Wellington, Kansas and enjoys spending time with his wife of 39 years, grandkids, hunting, fishing, golf and anything else his body allows him to do. Phil's real passion in music is to play with good, funloving musicians and watching people he is playing for. According to Phil, there is nothing better than to see a dance floor packed and people really enjoying his music.