"Want to know where we are playing next? Check out the Band's calendar to view our current schedule. Dates are updated as they are booked and scheduled. You can also check availability to schedule Marc Baker & Untamed Country for your next event."

"Do you know of a venue that would benefit from having a live band perform? Let us know where and we will be glad to reach out to the venue."

Contact us here!
Untamed Country will be performing at Reflection Ridge Golf Club in Wichita, KS. This is a new venue for the Band so let's show them a good time with some great music. Show starts at 7:00PM. $5 gets you in and you must be 21 and older to attend! Call 316-721-2192 to get your tickets ahead of time.
Untamed Country will be performing at Samuel Brewskies Bar in Wichita, KS. They called us back because they saw what we can do, so let's pull out all the stops. Pack the house with all our fans to show them why we continue to be the best band that they book! Show starts at 9:00PM. No cover charge, but tips are always appreciated.
Marc Baker will be performing at a private Ag event at Gracehill Winery in Whitewater, KS. While this event is private and not open to the public, we strongly encourage you to check into the fine wines offered by the winery. Their website is available by clicking "Private Event" above. Tell them Marc Baker recommended!
Untamed Country will be performing at The Bourbon Cowboy in Emporia, KS. This is a perfect opportunity for the band to get some exposure in the middle to northern part of Kansas, in hopes to expand our already great fan base. Show starts at 10PM and ends at 1AM. Cover charges is $5 for 18-20yr olds and $3 for anyone over 21.
Events to the right are for the year 2018
Untamed Country will be performing at the Rusty Needle Sports Bar and Grill in Hutchinson, KS. This would be the 3rd time that the band has made the trip and we are looking forward to a great time of Dancing and Country Music. Cover charge is $5 and the party starts at 10:00PM and goes till 1:00AM.
Untamed Country will be performing at the Tulip Time Festival in Belle Plain, KS. Buttons are $3 to get into the festival. Show is from 8:00PM - 11:00PM. We have been called back from Last Year to perform for the street dance this year. It will be a pretty good time!!!
Why choose Marc Baker & Untamed Country?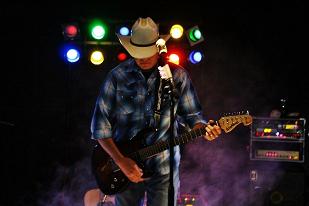 Self Supporting band with no equipment needed from the venue.
We provide our own sound systems, lighting systems, cabling needed to perform a show. All we require is clean power with at least a 20Amp circuit. If the venue has their own systems that they want us to use, we are more than accomodating.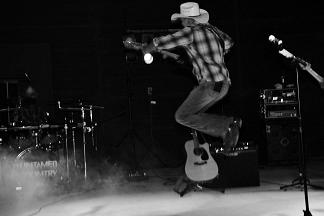 All members of the band work well together, enjoying just playing the music.
The band members enjoy playing with each other, practicing many times throughout the year to ensure our output and skills are top notch. Every member is a key part of the band, with the band performing its best as a whole.
Willing and accomodating all
kinds of venues to perform at.
We have performed on professional stages, small bars and clubs to even out in the middle of fields and personal property venues. We adjust and setup according to the wishes of the venue we perform at.